Discussion Starter
·
#1
·
So some of you may have seen on Facebook or heard, but I am now making magnets for autocross. I purchased the necessary materials the other day, and made my first batch for Stephen today. I think they turned out great.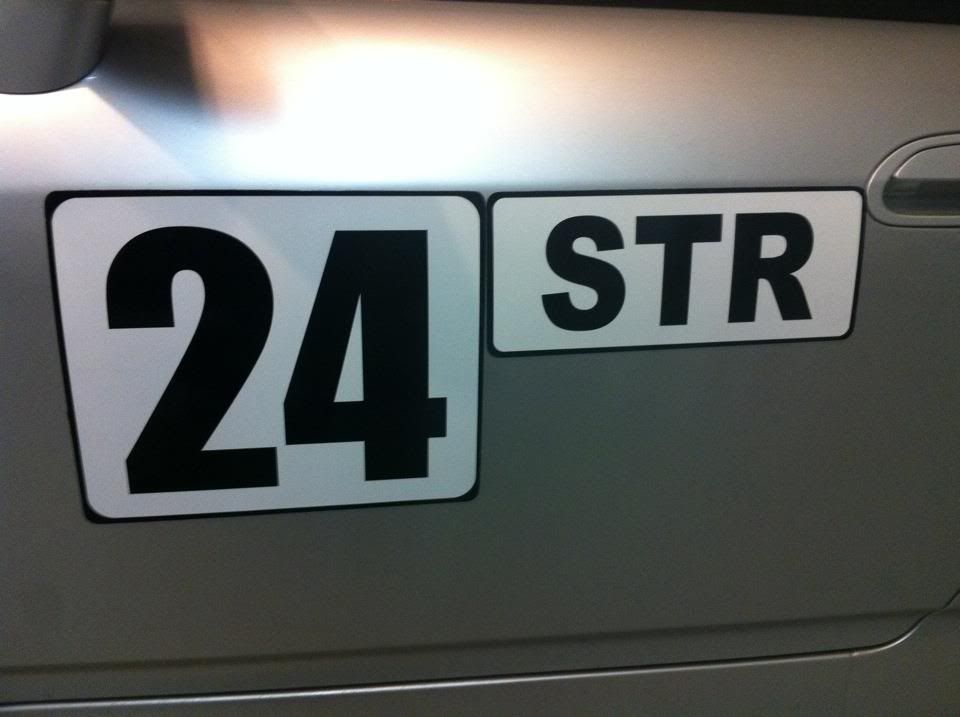 With that, I would like to make this post saying that if you would like autocross magnets for your car. I am offering them to you for 35$ for the set (2 # panels and 2 class panels). I am offering a few different things as well, but I will detail them out below.
These panels are individual and come in 12x10 for the number panel, and 12x5 for the class panel. All rules that I have seen for the numbers/class have been accounted for and obeyed in making these numbers for national level competitive use. (If I am missing something, or they look not sufficient to use in SCCA events, please let me know so I can better serve my product to the public)
Along with the standard set, will be an oversize set, which is a 12x12 magnetic panel with a 10 inch number in black on the magnet, with a 12x5 class of your choosing. This option will cost $45. Individuals will be also included, but will be at a higher cost.
Now... With these panels being individual as they are, I am offering a few different options to go with the ones I have posted above.
Above posted is a standard set, costing 35$. What you will receive is an 8 inch tall number of your choosing on a 12x10 magnetic panel with black letters and a small boarder around the outside of the magnet itself, all layered onto a white bodied magnet. As well as a 12x5 class panel with the SCCA class of your choosing. These letters are bold as you can see in the picture above, and will be 3 1/2 inch tall letters. I would suffice to say that you will have no problem being able to read these from across parking lots.
I tested these magnets out myself the other night. I stuck them to the side of my car during a ride home (blank) to see if they were going to stick at highway speeds, they did. So I am confident in saying that they will survive autocross days, as well as track days. Cannot guarantee, but I would say its hard to believe that these magnets would fall off the car.
Now along with the standard set and oversize set, I am offering individuals as well. These are for the persons who have a number, or class, and want to get a new one made, or change the class they run.
I am offering 1 set (2) # panels in 8 inch numbers on the 12x10 white magnetic panel for 24$
10'' set would be 30$
1 set (2) class panels in 3 1/2 inch letters on the 12x5 white magnetic panel for 16$
Now if you lost a number or class panel I can also do that for you, costs are as follows...
1 Number panel (8 inch) - 15$
1 Number panel (10 inch) - 20$
1 Class panel - 10$
(These are again the same description as above)
Now if you need a magnetic 1 for a co-driver? I got you covered on that one as well.
On a 10x4 panel, I will be putting a #1 on, it will have no boarder as the regular magnets do, just the simple #1 in 8 inch black color
I will be selling these for 8$ for both, or 5$ for just one.
If you would like to order a magnet from me... You can do so by simply emailing me this order form completed. I will process and do the orders in order of receipt. If you should opt to ship these I will be using USPS in a padded envelope. Please add 5$ to the order total, if you need to have them shipped.
Please email me this form, below the dotted line at
[email protected]
with the title "Autocross magnet order"
----------------------------------------------------------------------------
Date :
Name :
Address :
Number :
Class :
Now in this section please indicate which option you would like
Standard Set - $35
(2 8'' number and 2 class panels)
Oversize Set - $45
(2 10'' number and 2 class panels)
2 8'' Number panels only - $24
2 10'' Number panels only - $30
2 Class panels only - $16
1 8'' Number panel - $15
1 10'' Number panel - $20
1 Class panel - $10
Now that you have selected what you would like, please indicate if you would like to include in your order, #1's for co-drivers, if you select either of these options, please add to total from section above.
2 8'' Number 1's - 8$
1 8'' Number 1 - $5
IF Shipping add - $5
Total Amount of order :
Method of payment :
Special Requests :
** If wishing to pay by Credit Card, please write out your Card Number, Expiration date, and the 3 digit code on the back in the special requests section, I can accept Visa, MasterCard, or Discover.
** If paying by Check, I will send information back to you as to where to mail it and to whom to address the check to in a follow up email after I receive your order. This also means I will not start on your order until the check clears the bank.
**** I am not responsible for persons who order from me and the car they have does not allow for magnets to stick to the exterior of the doors. You should know if your car is magnetic or not.
--------------------------------
Again, fill out the form above and email it to
[email protected]
with the title
Autocross magnet order