Well Thursday i did a tone of cleaning to the frame and swingarm from lack of cleaning/degreasing by the previous owner. Looks a hell of alot better. As for the pressure plate...ebay was wrong (no surprise) this bike is a 750L so it has 6 springs VS the 750 J/K have only four. Conveniently nowhere near here has one and was told by C&C powersports that there were "only two left in the country and if i didnt order one today that i probably wouldn't ever get one again." They wanted over $70 for one so i said forget it and went back to Dennis over at R&D on preston and had him order me one for $55 and it should be in here this week sometime. Hopefully sooner rather than later.
Gonna be getting rid of the stickers and the mirrors soon. Gonna order some block off plates. Got a few things im about too order and a fender eliminator is the first. Gonna get one of the ones that go on the swingarm. Not sure what im gonna do about the rear turns. Trying to come up with some flush mount or maybe hide the existing ones up behind the wheel or something.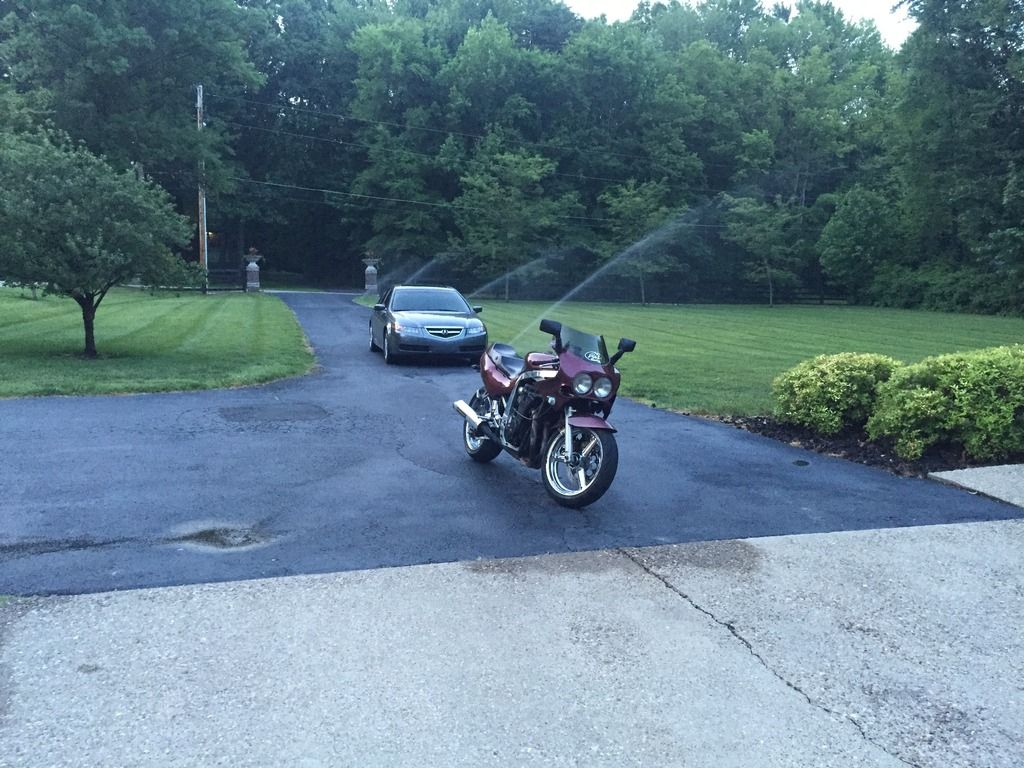 Well finally found me a good pump up at autozone surprisingly. Alot of people said to just get a cheap one at like big lots because they all end up breaking after a year or so but all the cheap pumps i could find went to like 60psi or had a huge plastic casing on it with lights and shit and i didnt want to have to take something apart and rig it and it end up breaking in a couple days. So i spend like $50 i think on this one.
http://slime.com/330/products/pro-po...nflator-40030/
Good for 250psi and it actually has a brass screw on fitting so thats much nicer than the plastic clamps. Got it rigged up. I ended up buying a nice weatherproof 12v socket from autozone today so i dont have to splice every pump i end up putting in. Put the plug behind where the rear seat sits. The pump also has a coiled extension hose which is perfect length to be able to unhook it from the tank and use it to pump tires so ill keep it under the seat if it'll sit.
Didn't take any pictures of the wiring or the pump itself. Didn't think about it so fuck off you judgmental sluts.
Here's a short little video of me testing it. Unhooked the shifter linkage so i dont fuck up the transmission. Don't care that its slapping around either need to replace it anyway the bushings are loose.
It's time for someone to go "ooh" or "ahh" or ask me how fast is goes and if i drag my knees/elbows when i turn so i wear them chicken strips because i'm writing a diary here people!
I mean come on people the two main build threads are a purple miata and a purpleish bike. Show some love